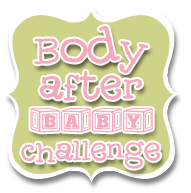 Samantha over at
MamaNotes
is hosting a Body After Baby Challenge to be "Fit by Labor Day". It will last 8 weeks and start on Monday July 13th. Basically it is a way to meet other moms going through the same thing, get accountability and support, and reach your goals.
This is not normally the sort of thing that would catch my attention. However, after seeing her post on Twitter about it numerous times I began to think seriously about it. I have not been exactly pleased with the image in the mirror since Fiona made her grand entrance into the world. It has been 7 months since then and I honestly thought things would go back to "normal" afterwards, but that has not been the case. It isn't horrible and I have worked hard to lose most of the baby weight, but things aren't the same and I am fighting a losing battle to keep off the weight I have lost.
What better way to keep myself motivated about being in better shape than to blog about it. It is easy to cheat and skip a workout because I'm tired or the baby is cranky or to eat unhealthy options because I don't feel like cooking. If I blog about it than there is some accountability. Oh, and of course there is a before and after picture involved. Eeeek!!
So I am going to be brave and do it. My goals are:
-to lose about 8 lbs (that is about pound a week)
-get some definition in my arms (because I just saw a picture of me from the 4th and they are a lot flabbier than I remember them being)
-start eating healthier (I really need to work on this one because I will soon be setting an example for Fiona)
-feel better about myself physically (this is the big one, I just want to feel a little more comfortable in my skin, stretch marks and all)
Now I just have to get brave enough to take the before pictures and send them to her. You can do it too! Head on over to her
blog
and check it out for yourself.