I met a great cloth diapering mama on Twitter, named Marissa. She was looking for someone to do a tutorial on how to use a prefold cloth diaper for her new online store. That is the only kind of diaper that we used when Fiona was little so I volunteered to do it. I actually had fun doing it. Go
here
and check it out.
Well her store,
Growing Green Bums
had its grand opening a couple of weeks ago. Marissa was generous enough to give me a gift certificate to her new store for my help with the prefold tutorial. I was soooo excited. Our budget has been pretty tight lately, but I was in need of a few more diapers. I used my gift certificate to buy a couple of diapers and then was lucky enough to win another diaper, some wipes, a swaddle blanket, baby legs, and a Moby wrap in different drawing and treasure hunts for her grand opening. She was so generous with the prizes during her grand opening.
I couldn't wait to get my package from her. Who doesn't love fluffy mail?!? It finally showed up and I dove right in. Look at all the cute stuff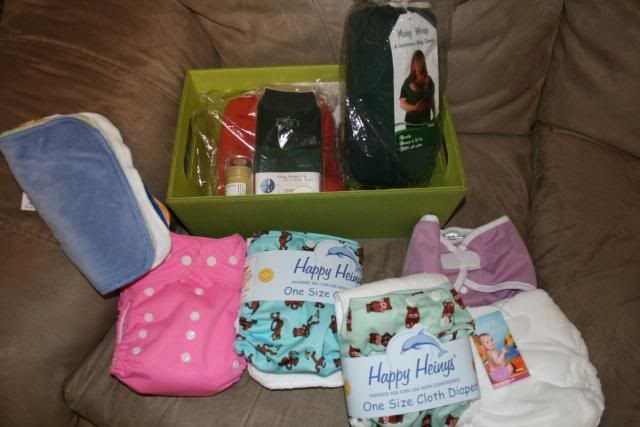 Here is a picture of Fiona in her new silly monkey Happy Heiny diaper. By the way, we are loving our Happy Heiny diapers.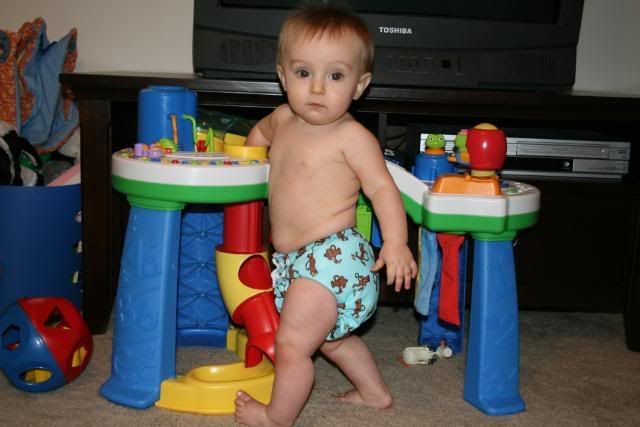 I am so glad that I have a Moby wrap now. I love my sling and it is great for wearing Fiona around, but I also am really loving the Moby. It is a little more complicated, but Fiona loves to be snuggled in it. Her Daddy has even used it. He wore her around like this for quite awhile after work one day. Aren't they sweet?
Anyway, Marissa is super sweet and I love supporting WAHM (work at home moms). Go check out her store,
Growing Green Bums
, and buy a diaper or two, or some of the other great products she has.